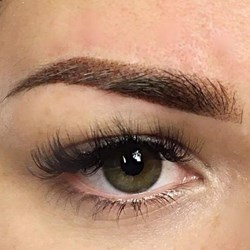 Basic Powder Brows Starters Package 2 (4 days)
€ 3.500,- (ex. VAT)
4-day training for learning and mastering this new technique. Ombre & Powder Brows creates a stylized eyebrow in a natural way. With this technique, the pigmentation gradually transitions from very soft to dark.
Ombré & Powder Brow training is a starter training that does not require any knowledge or skills in advance.
In addition to the 4 training days, there is also online guidance and support. Incloding Derma Medical 3.
Starter package 2 consists of:
Luxury suitcase
Derma Medical 3 straight handpiece and holder
4x Xtreme Ombre pigments 3ml
Holder & pigment cups
10x 1 Nano 2 Modules
Caliper 4
Brow pencil
Practice pads
Micro brush
Brow cord
Perfect heal (after treatment)
5x test jars

Pay in installments
(Derma Medical 3) total package € 3,500 excl.VAT / € 3.941,- incl.VAT
Registration fee (= down payment): € 1500,- (incl. VAT) to be paid immediately upon booking
9 x monthly installment payments of € 450,- (incl.VAT)
1 x final installment payment of € 191,- (incl.VAT)
Contact: +31 6 17664066 / +31 (10) 450 77 90 E-Mail: info@ecuri.com