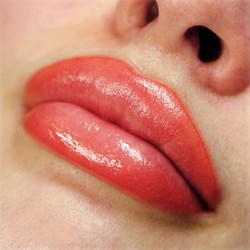 Masterclass Full lips
Most women who come for a lip liner actually want a nice mouth. Often the lop lost the contour of the cupid bow is practically gone or the mouth is crooked. An ordinary lip liner would only accentuate the imperfection.
The Full lips technique offers you the possibility to create a completely new, natural mouth. If desired, the lipline can be "invisible" enlarged or corrected. The Full lips technique gives what the client actually asks: a beautiful, natural mouth. This technique is the solution for many lip problems.
You can only join the training if you already perform lipliners and powderbrows techniek with 1 point needle. If not you have to come for the 2 days lips course first.
Registration fee (= down payment): € 200,- (incl. VAT) to be paid immediately when booking.
Contact: +31 6 82609791 info@ecuri.com